One does not follow the witches path long before feeling the need to garden.Once spring is upon us, it is time to begin running our fingers thru the earths soil and watching the love we plant grow.And since witchcraft is an Earth religion, we can help feeling the need of spending hours in the soil, for it energizes us. These are the energies we celebrate in our rituals, the handiwork of our Mother Earth.
Moon Garden
What could be nicer than sitting on the front step at night, eating crescent cookies, sipping mint tea, and gazing at night blooming plants? To me, nothing is better, this is how I spend alot of my nights. I love the way my garden makes me feel. Alive.
Below are the night plants in my garden.
Evening Primrose
Moonflowers
Phlox -- the Midnight Candy variety
Night gladiolus (gladiolus tristus)
Evening trumpet flower (Carolina Jessamine)
Sweet Rocket (Hesperis matronalis)
I love Greek mythology , and in Greek ,Artemis is a moon goddess. White-ish plants that are sacred to her are wormwood and white mugwort. She loves all artemisias .The smell of artemisias is wonderful.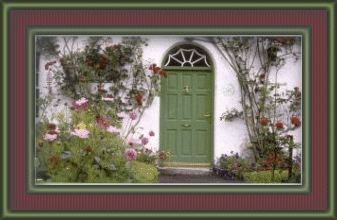 If you have any ideas or questions on gardening let us know. We will try to help any way we can. If you have any pictures of your garden send them in and we will add them to our garden section.